Digital test automation of the DEKRA Lausitzring - LAURIN
The complexity and quantity of test scenarios required for approval or for tests accompanying the development of automated vehicles is extremely high, whereby the testing of cooperative, interacting driving functions in a swarm multiplies this effort many times over. Such scenarios can be experienced on digital test fields only in continuous test operation. For the design of interacting control systems, the results of these tests are of great interest to all manufacturers.
Funding authority
Federal Ministry for Digital Affairs and Transport
Visit the LAURIN-project site of the Federal Ministry for Digital Affairs and Transport (german)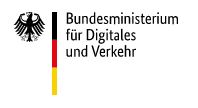 Project partners
tracetronic GmbH
iMAR Navigation GmbH, St. Ingbert
Smart Mobile Labs AG, München
Fraunhofer Institute for Transportation and Infrastructure Systems IVI, Dresden
Project duration
May 2022 to April 2025
Details
As part of the project, the time-consuming, manual fault identification and diagnosis is supported by a method of independent learning that can recognize fault patterns and gradually learn how to deal with underlying errors from users. Test result reports and data recorded at runtime are used to train a system to automatically analyze incorrectly executed test scripts. The manual execution planning of test scripts on test resources can at times be time-consuming and often suboptimal due to lack of time or lack of information. This is replaced by dynamic test execution planning. In addition to the already available information, it also refers to knowledge gained during fault pattern detection at runtime in order to minimize downtimes and thus increase the productivity of test resources. Finally, test execution planning also includes the distribution of test orders to the available test resources taking the given boundary conditions into account.